[Webinar]"From Excel to KNIME : pushing the limits of your analytical journey I August 25 I 11am (BST)
Join our webinar to break the status quo and learn how KNIME's approach can support your data prep needs !
Excel versatility has made it one of the world's most popular software. However, as data preparation requirements get more complex, the use of Excel can quickly become challenging and time-consuming.
Join us in this webinar to find out how moving to KNIME's workflow approach will save you time and help you become more productive. Leveraging and capitalizing on your experience of Excel, we will showcase everything you need to effectively add KNIME to your skillset and unlock your analytical potential.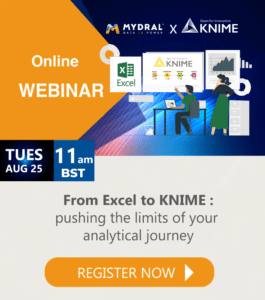 During this webinar, you'll learn :
▶️  How using KNIME can complement Excel capabilities
👉 How to perform the most commonly used Excel finctionnalities with KNIME
📊 The most important KNIME nodes when swwitching from Excel
Unlock your data and discover greater insights !
Download your KNIME analytical platform for free!
Register now to save your seat & spread the word 🙂
In 45 min our demo is open  live is intended to everyone regardless of your technical skills or business function.
How to join us ?
Once you register with Eventbrite, you will receive an email with the link to the live webinar from Mydral UK.
Don't miss our upcoming events, join us in LinkedIn
Author Profile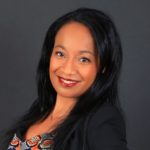 Hi, I'm a digital marketing fashionista ! I'm passionate about covering topics like big data, business intelligence and Artificial Intelligence. SEO for the sake of Google 🙂 The French-style lemon tart is one of my other passions.