[News] 2021 Gartner Magic Quadrant for Analytics and Business Intelligence Platforms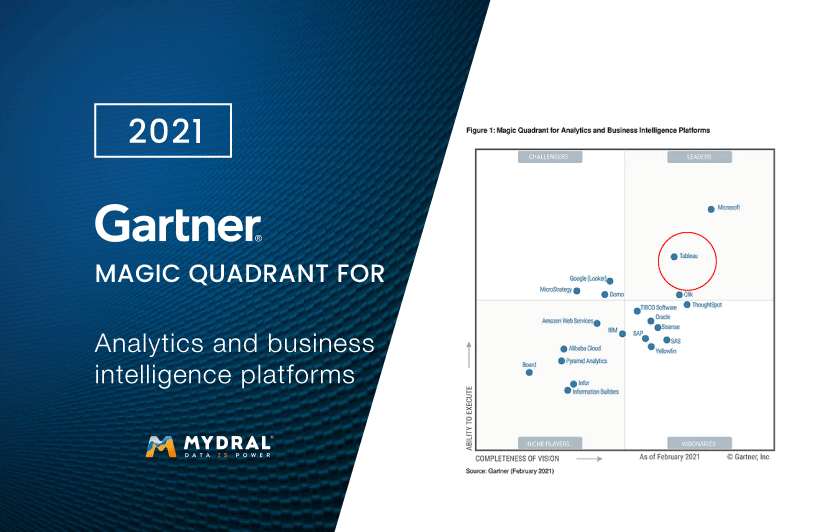 Have you checked the latest report ? Gartner has released its new iteration for 2021 ? What about Tableau and Gartner ? Tableau, our historic partner for more than 12 years, is a leader !
What is the Gartner report ?
The definition of self-service is shifting in this field as augmented capabilities pervade platforms. At the same time, cloud ecosystems and alignment with productivity tools have become key selection factors. This Magic Quadrant will help data and analytics leaders plan an analytics and BI roadmap.
What's changed ?
Tableau is a leader for 9 consecutive years !
Tens of thousands of organizations in nearly every country choose Tableau to solve data problems, including Fortune 500 enterprises, small and medium-sized businesses, government agencies, universities, research institutions, and non-profits.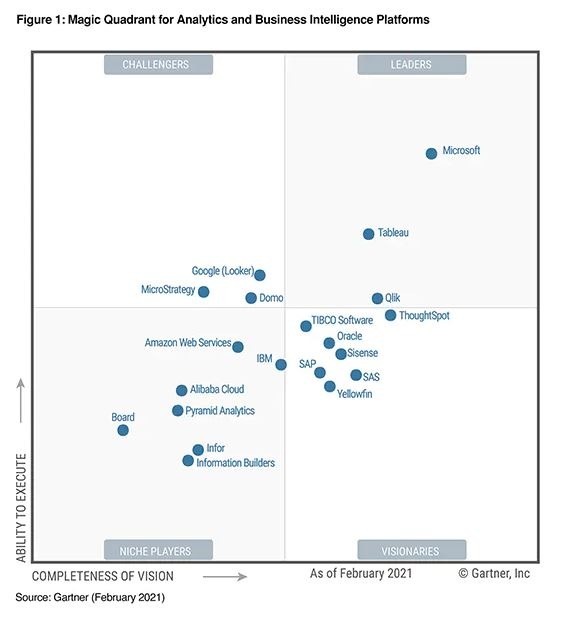 Why customers choose Tableau ? 
Greater value, greater adoption 
Customers are deploying Tableau widely across the business, seeing fast adoption and great ROI because people love using Tableau. Our licensing model helps all users get the right capabilities at the right price. And we partner with customers to build a Data Culture that boosts trust and confidence in analytics.
Analytics people love to use 
Tableau lets users visualize and explore all of their data without having to write code. People can dive deeper, pivot analysis, and change chart types without starting over or breaking their flow. Tableau encourages creativity and confidence in decision-making, so people can focus on asking questions of their data, not learning software.
Platform with flexibility and choice
Customers can get more value from their existing and future technology investments because choice and flexibility are Tableau principles. Deploy Tableau anywhere—Linux or Windows, on-premises, in a public cloud or fully hosted SaaS, even embedded in web portals and applications—and connect to any data, wherever it resides.
Customer-focused innovation
Tableau meets customers where they are by designing products that are AI-powered, but people-driven. From augmented analytics capabilities and natural language query to built-in visual best practices, Tableau is purpose-built to help customers solve complex challenges through a sleek, user-friendly experience.
A community that "will not let you fail"
The Tableau Community is unparalleled with more than 1 million diverse, engaged members. From analysts to developers to data leaders, this global network accelerates learning, answers questions, and supports one another to achieve personal and professional data goals. Customers often say, "the Tableau Community will not let you fail."
Full power of salesforce 
Tableau is part of the Salesforce Customer 360, a key enabler for digital transformation with data at its core. Tableau is natively embedded in Salesforce CRM to empower users with AI-driven insights.
Source : Tableau Software 

Author Profile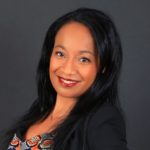 Hi, I'm a digital marketing fashionista ! I'm passionate about covering topics like big data, business intelligence and Artificial Intelligence. SEO for the sake of Google 🙂