[News] Tableau and Salesforce: CRM Analytics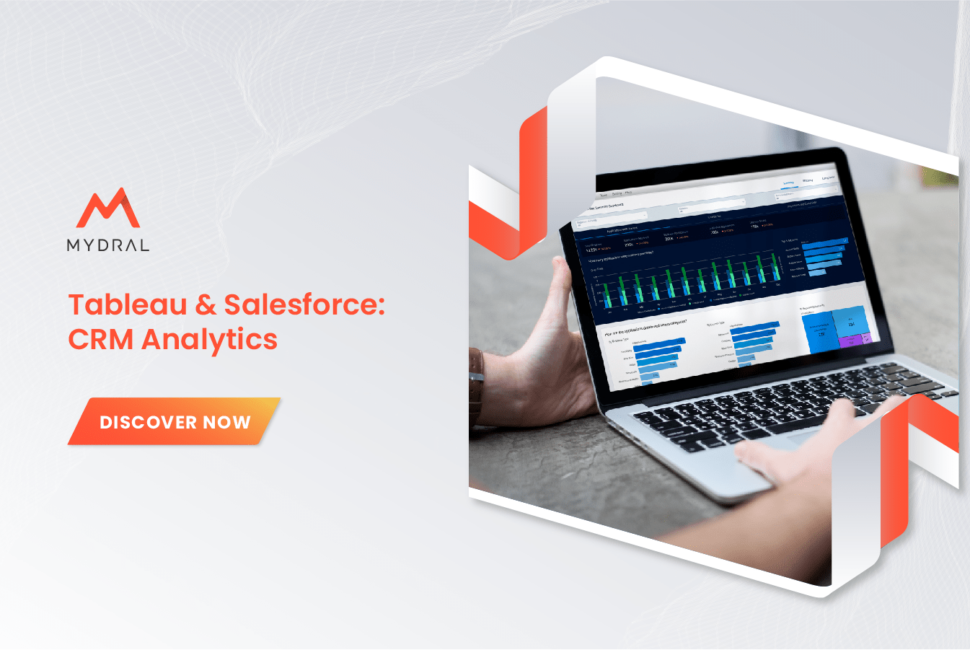 Introduction to CRM Analytics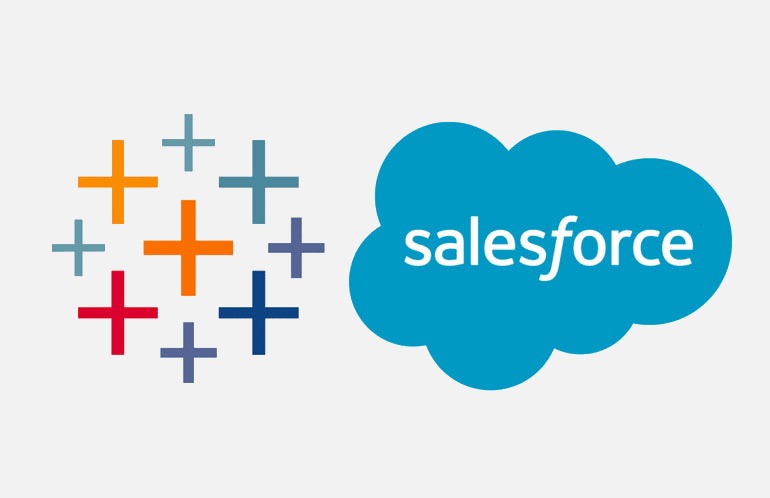 CRM Analytics is an Intelligence Business platform entirely integrated to Salesforce, worldwide leader of analytics.
As an integral part of Salesforce, it's secure, reliable, scalable and, of course, mobile! It gives every user in an organization instant access to highly relevant business information through an intuitive visual interface.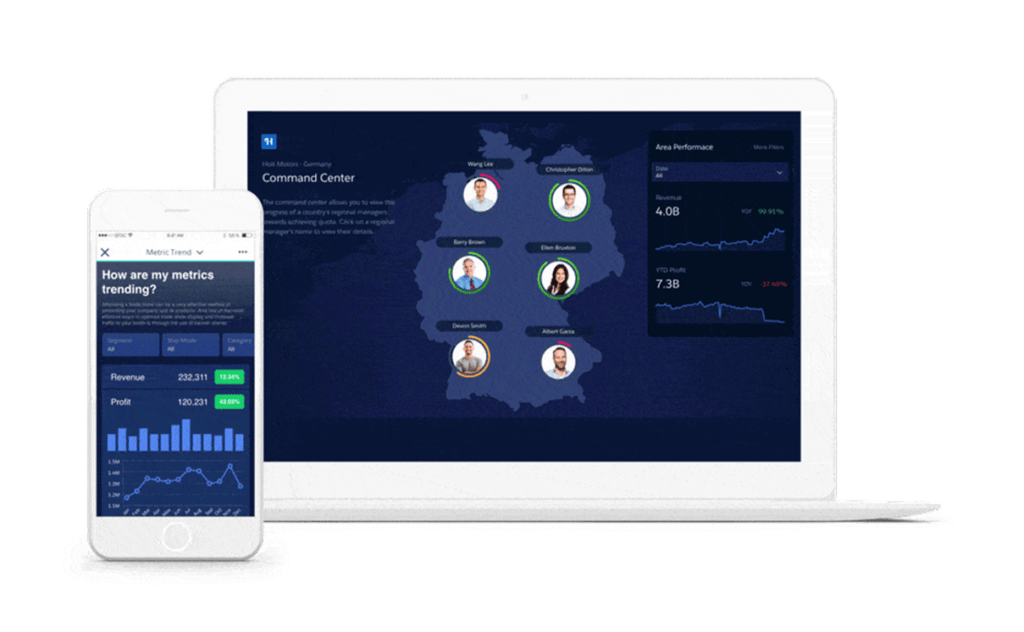 There is key points you must know :
The Tableau CRM software solution (formerly Einstein analytics) created in 2017, is Salesforce's BI platform
It concerns the Salesforce cloud analytic, accessible from a Web browser
CRM Analytics is integrated as a Saas Platform natively connected to the different Salesforce Clouds
Brings value trough the construction of dashboards and predictions
Differences between Tableau and CRM Analytics
The differences between Tableau and Tableau CRM are essential to know.
First it would be necessary to understand the context of native Salesforce. Salesforce offers reports and dashboards that are always relevant and useful. This brings a must-have option to get quick results based on real-time data. It is also interesting the speed to configure.
Generally speaking, if most of your users are already in Salesforce, then CRM Analytics/ Einstein Analytics is most likely your platform of choice.
If you want to quickly integrate analytics and action analytics into Salesforce, CRM Analytics / Einstein Analytics is also your best bet.
On the other hand, if your information is intended to be widely shared among Salesforce users and others (or if you don't use Salesforce), go with Tableau.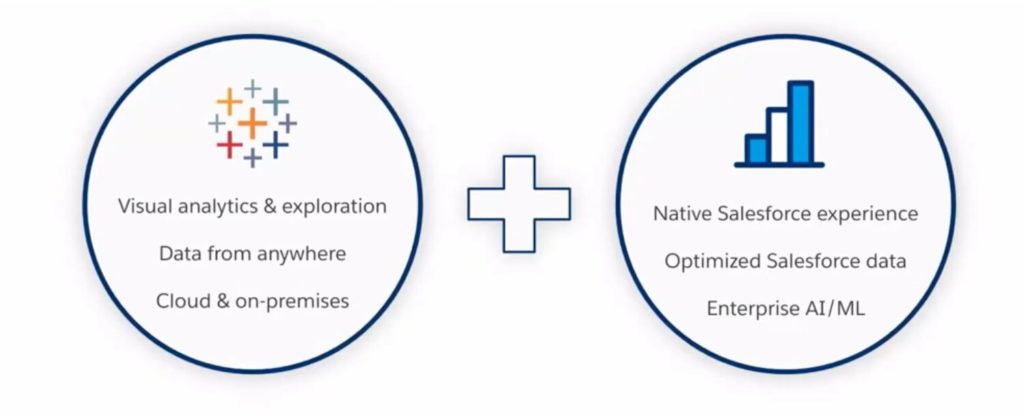 Why using CRM Analytics?
In general, this analysis tool formerly known as Einstein Analytics allows you to visualize your data quickly, clearly and efficiently. Moreover, it provides all departments of a company with a unified view of customers on an integrated platform.
By identifying your business opportunities with precise results, the platform allows you to work with a large volume of data. Then comes the creation of dashboards with performance indicators in order to better understand the effectiveness of your business activity. The platform therefore supports you with an accurate and useful analytical solution that far surpasses Business Intelligence software.
How does CRM Analytics work?
CRM Analytics processes data from various sources, whether internal or external. The platform then allows you to make your own transformations in the dataflow to be joined in a single file, the Dataset. The goal is to gather all the data in order to find the data more quickly. Once obtained the Lens, you can create your own personalized Dashboard and clearly visualize your data.
It may be integrated as a SAAS Platform natively connected to the various Salesforce Clouds.
The advantages it offers you
Automated Discovery
Processing large volumes of data
Focus on results
Speed and efficiency
Create in just a few clicks
Centralization of the platform
Everything is customizable
Gives you your autonomy
Reliable and precise
Gain concluent results:
Cases resolved 22% faster
Business increases by 25% (pipeline quality & close rate)
Business strategy improves by 27% (decision-making & insight-driven)
Decision-making is 38% faster
Productivity increases by 22%
Sales conversions increase by 14%
Quote: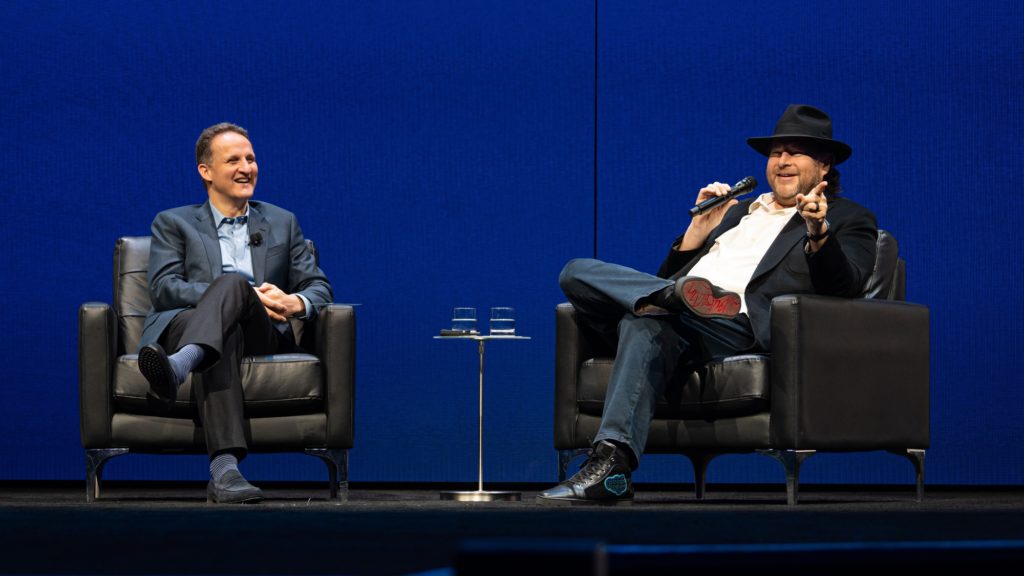 Author Profile